(Foto: SF Studios)
A LITTLE MOVIETIP THIS SUNDAY IN NOVEMBER
Litt om en film du bare på må se. På torsdag tok jeg en bytur med mamma. Vi var på shopping, og tok en tur på kino for å se "A star is born." Den var så utrolig fin og rørende. Det er en film som har fått utrolig god kritikk av de fleste, og det er jeg i alle fall helt enig i. Selveste Lady Gaga beviser til og med at hun også er ikke bare er en av verdens beste popartister, men også skuespiller. Så hvis du ikke allerede har sett denne filmen, er den virkelig verdt tiden!
A Star Is Born har vært filmatisert hele tre ganger tidligere. Både i 1937, 1954 og 1976. Dette stoppet ikke Bradly Cooper fra å gjøre sin debut som regissør med å lage den fjerde versjonen av filmen. I flere intervjuer røpet Cooper at han ikke akkurat bare hadde møtt oppmuntringer i drømmen om å filmatisere denne klassikeren. Tvert imot ville de fleste han snakket med fraråde ham å gjøre det. Hvem skulle vel tro at den fjerde gjenskapelsen av en klassiker med en førstegangs-regissør og en hovedrolle uten særlig erfaring kom til å bli en suksess? Vel. Det ble det.
"Om det er hundre mennesker i et rom, og ingen tror på deg bortsett fra en – så holder det. Bradly var den ene som trodde på meg." 
-Lady Gaga
• • • • • • • • • • • • • • • • • •
A little about a movie you just have to watch. On Thursday my mother and I went to the cinema to see "A star is born." What a movie! It was so touching and real. if you have not already watched this movie, it's really worth the time!
A Star Is Born has been made three times earlier. Both in 1937, 1954 and 1976. This did not stop Bradly Cooper from having his debut as director by making the fourth version of this movie. In several interviews, Cooper told that he had not just met encouragement from telling about his dream of filming this classic. On the contrary, most people would talk to discourage him from doing so. Who would think that the fourth revival of a movie with a first-time director and a lead role without any experience was going to be a success? Well. He definitely proved them wrong.
"If there are hundreds of people in a room, and no one believes in you apart from one – that is enough. Bradly was the one who believed in me."
-Lady Gaga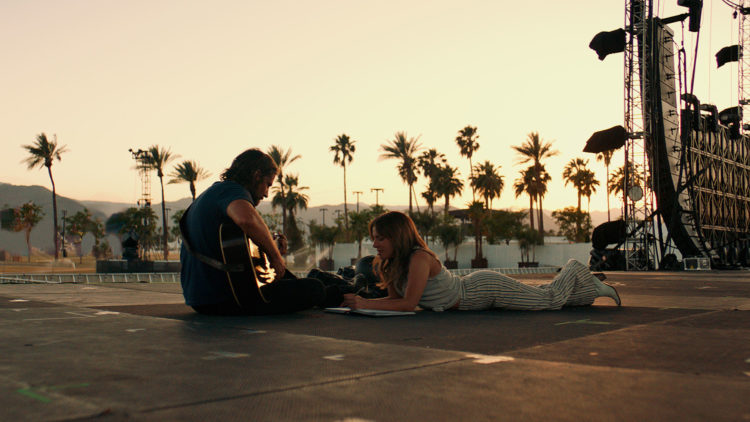 (Foto: SF Studios)
Vel. Jeg synes at Bradly Cooper gjorde rett i å ha troen. Lady Gaga imponerer i denne filmen. Hun spiller så utrolig godt. Troverdig og ekte er hun rett og slett den fødte skuespiller.
"Den kjente country artisten Jackson Maine havner tilfeldigvis på en bar der Ally opptrer. Hun er så dyktig at Jackson Maine bare blir nødt til å finne ut mer om denne Jenta. De ender opp med å snakke sammen hele natten, og finner virkelig tonen. Han inviterer henne til å være med, og synge på en av de neste konsertene sine. Det utvikles raskt en dyp romanse mellom de to talentfulle musikerne. Dessverre oppstår det konflikter når vi får vite mer om Jacksons alkohol og rusmisbruk, samtidig som Ally er i ferd med å utvikle en profesjonell musikk-karriere."
Jeg synes at romantikken er troverdig gjennom hele filmen. De to klarer å holde den levende og ekte ved at de er veldig flinke til å uttrykke følelser begge to. Samtidig føles filmen hverken kjedelig eller lang, til tross for at den varer i hele 2 timer og 15 minutter.
Med andre ord. Se denne filmen.
Også skal det nevenes at det som er enda bedre … er det jo med alle disse sangene de synger i denne filmen.  Det første jeg gjorde da jeg kom hjem fra kino var å sette med til pianoet og synge, hehe. Slenger med listen min av de tre sangene jeg liker best fra filmen.
• • • • • • • • • • • • • • • • • •
Well. I think Bradly Cooper was right in having faith in Lady Gaga. She impresses me in this movie. She is acting so incredibly good. It is all so credible and true. Lady Gaga is simply the born actor.
"The famous country artist Jackson Maine happens to happen to be at a bar where Ally  performs a song. She's so talented that Jackson Maine just has to find out more about this girl. They end up talking all night , and really finds the tone. He invites her to sing at one of his next concerts. A deep romance starts to develop between the two talented musicians. Unfortunately, conflicts arise when we learn more about Jackson's alcohol and drug abuse, while Ally is in the process of developing a professional music career. "
I think that the romance is truthful throughout the film. The two actors manage to keep it alive and real because they are very good at expressing their feelings. At the same time, the film does not feel dull or long, even though it lasts for 2 hours and 15 minutes.
In other words. Watch this movie.
Also, it should be said that what's even better … is all these songs they sing in the movie. The first thing I did when I got home from the cinema was to sit down at the piano and sing all of them, hehe. So here is my list of the three songs I like the best from "A star is born"
♥ I`ll never love again 
♥ Shallow
♥ Always remember us this way
• • • • • • • • • • • • • • • • • •
(Foto: SF Studios)
// Have you seen / are you going to see "A star is born?"